Medicine for Fear: launch of a new online course on May 31; Pre-register and save 30%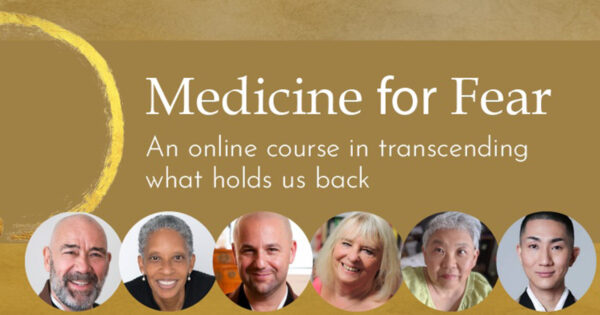 Launching May 31 from Lion's Roar: Join New York Zen Center founding teachers Koshin Paley Ellison and Chodo Robert Campbell, along with Pamela Ayo Yetunde, Kodo Nishimura, Mushim Patricia Ikeda and Mirabai Bush for Medicine for Fear: An online course to transcend what holds us back.
medicine of fear is a self-paced course: watch and practice with the presenters at your own pace, whether as an all-day home retreat or a little at a time. You will learn to befriend fear and empower yourself to work with this difficult emotion without turning your back on yourself. When we face what is holding us back, we take a step towards liberation.
The course includes an 8-part training on the relationship to fear and the cultivation of fearlessness inspired by Zen teacher Eihei Dogen's essential instructions for awakening, the "8 Practices of the Awakened Person" – each a notable contribution to minimizing the impacts of fear on us.
CLICK HERE to view an invitation to medicine of fear by Koshin Paley Ellison, to view the full curriculum and pre-register for the full course now at Lion's Roar Online Learning.
Registered students get free lifetime access, plus downloadable audio and transcripts of each session to support your study and practice.