Free Online Mental Health and Journalism Course: Learn How to Take Care of Yourself and Report Mental Health Issues Responsibly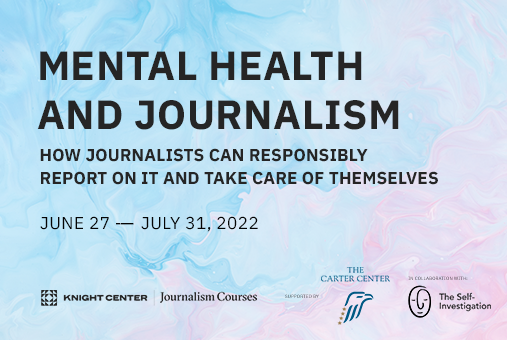 Media coverage of the mental health and well-being of journalists has traditionally been overlooked in the journalism industry, despite the fact that media professionals often witness incredible tragedy and trauma, face busy schedules, face an uncertain future in the business, and work in unhealthy newsrooms. The COVID-19 pandemic has just added fuel to the fire.
In a recent survey of nearly 1,000 Canadian media workers, 69% reported suffering from anxiety and 46% reported suffering from depression. Fifty-three percent used medical professionals to manage work-related stress and mental well-being.
In response to this pervasive problem in our global journalistic community, the Knight Center for Journalism in the Americas, the Carter Center and self-inquiry offer the free online course, "Mental health and journalism: how journalists can report responsibly and take care of themselves."
This five-week Massive Open Online Course (MOOC) runs from June 27 to July 31, 2022. Registration is open now, so sign up today.
"You may have heard the saying 'put on your oxygen mask first before you help others.' mental health and one's overall health in a job as emotionally charged and pressured as journalism," said Kim Brice, co-founder of The Self-Investigation and course instructor.
"Journalists are human beings and are susceptible, like everyone else, to mental health issues, depending on their personal background and experience and the topics they cover. It's just common sense to be aware of your own physical and mental health and the potential risks to working well and living well," Brice continued. "This awareness will also allow journalists to report on mental health issues with more understanding and respect, and they can use this knowledge to help improve the health of societies through their reporting."
The other course instructors are Mar Cabra, Pulitzer Prize-winning journalist and co-founder of The Self-Investigation, and Stephanie Foo, writer, radio producer and memoir author. What my bones know.
In five weeks, they will cover:
Module 1: Facts about stress and mental health, including basic self-care skills and preventing burnout
Unit 2: Working and collaborating healthier in the digital world, including looking at vicarious trauma and online harassment
Unit 3: Raise awareness and generate a healthier work culture, including integrating wellness into company policies
Unit 4: How to tell stories that build empathy, not pathology, including viewing mental "illness" as a social construct
Unit 5: How to care for your subjects, including interview best practices and caring for your subject's mental health
While Cabra said mental health issues are attracting more attention, debate and resources due to the health effects of the COVID-19 pandemic on society, she added that the topic "remains largely taboo. or misunderstood".
"For too long, the journalism industry has embraced and even glorified an 'always on' culture and the pandemic has only accelerated and amplified the effects of that culture on the well-being of journalists," Cabra said. . "And we see its detrimental consequences on individual journalists and the profession in general."
Beyond the mental health of journalists, this course will delve into how media professionals can also address mental health issues when reporting.
"Journalists need to know how to ethically report on mental health issues in order to protect the people they are reporting on, as well as other people in their community," Foo said. "You also want to make sure you're not reinforcing dangerous stereotypes, creating stigma around the subject you're reporting on, and further isolating people with mental health issues from the world around them."
Brice, Cabra and Foo will be joined by an impressive list of a dozen guest speakers, including Hannah Storm and John Crowley, co-directors of Headlines Network, Sisi Wei, co-executive director of OpenNews, and Alia Dastagir, journalist for USA today.
"We want this opportunity to give voice to actors who are doing incredible work to de-stigmatize mental health in media around the world and promote a healthier, more diverse journalistic culture," Cabra said of the guest speakers.
Instructors will teach the course using video lectures, presentations, readings, discussion forums and quizzes.
This course is asynchronous, which means that course activities can be completed on your own schedule. Recommended deadlines are in place so as not to fall behind.
Those who successfully complete the course requirements and pay an administrative fee of US$30 can receive a certificate of attendance at the end of the course. There is no formal credit of any kind associated with the certificate issued by Knight Center.
"This MOOC is a first: we are bringing mental health education to a massive audience on a scale that has never been done before," Cabra said. "For so long, journalism courses focused on hard skills (social media, spreadsheets, newsletters), but now we're starting to accept that soft skills are important too. We recognize that we are human beings too! We are as important as our work, if not more! »
"We are grateful to The Carter Center for the support that made this course possible, and to the three instructors who accept the challenge of developing this pioneering program that will benefit journalists around the world," said Professor Rosental Alves, founder and director of the Knight Center. "We are pleased to partner with The Self-Investigation, a newly established organization to provide a variety of services aimed at improving the well-being of media professionals."
So join the instructors today for this important course where you will not only learn how to take care of yourself, your mental health and your well-being, but also how to cover the mental health of your own community. Register today.