Do not miss the opportunity! UNESCO's free online course on access to information is still operational – Access Info Europe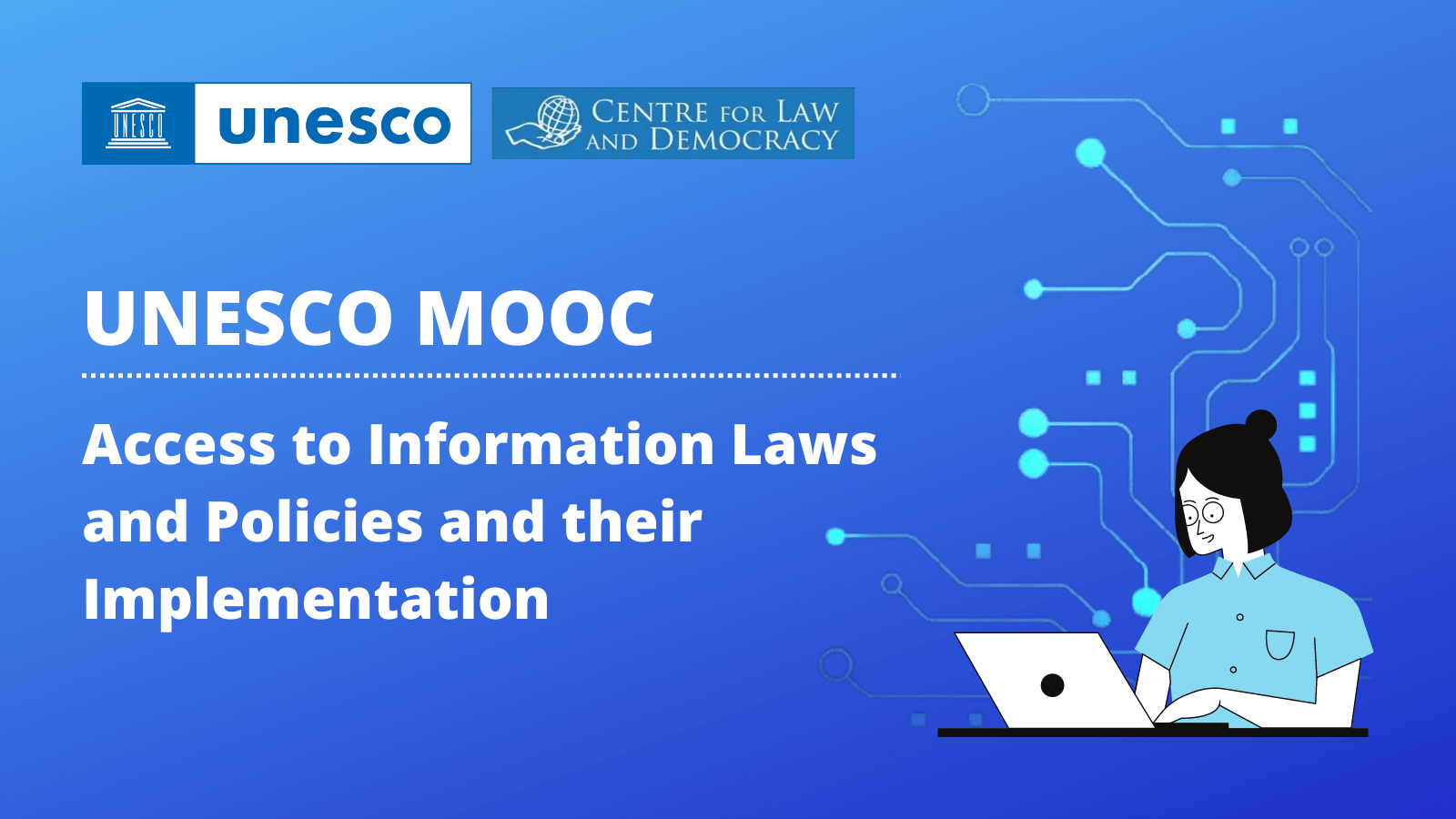 Madrid, November 10, 2022 – UNESCO and the Center for Law and Democracy (CLD) recently launched a online course open to all (MOOC) on the right of access to information in order to offer people around the world the opportunity to learn about this fundamental right.
The course is free for everyone, takes just six hours, and provides official UNESCO certification upon completion.
This course is an excellent opportunity for civil servants, journalists, civil society, students and all those who want to deepen or strengthen their knowledge on the right of access to information (ATI).
Thaís Rodrigues de Freitas, Archivist of the National Museum of Fine Arts of Brazil, who has already taken the course, said:
"This course is an important source of information, both for the general public and for professionals who work in the field of information. The right of access to information is something essential for countries like Brazil, even more so at this time, where it is becoming an important instrument in guaranteeing rights and consolidating the democratic process of today's society and future.
With the UNESCO course, participants:
Increase their knowledge of international standards and best practices in ITA laws and implementation.
Develop their capacity to advocate for better access to information laws and more effective implementation of these laws in their countries.
Have a better understanding of how ATI is beneficial to both citizens and public authorities.
Improve skills and capacities, in particular by helping public officials to implement access to information laws more effectively and efficiently.
Step by step and led by professionals
The UNESCO MOOC course is divided into eight core modules, each of which explores relevant themes related to the right of access to information. It is also divided into different types of activities, such as moderator and expert videos, simple interactive games, reading material, useful resources for further reading, and quizzes.
The course contains videos of some of the the most experienced transparency experts in the worldsuch as:
Toby Mendel, Founder and Executive Director of the Center for Law and Democracy.
Anjali Bhardwaj, co-host of the National Campaign for People's Right to Know (NCPRI) in India.
Blanca Lilia Ibarra Cadena, Commissioner of the National Institute for Transparency in Mexico.
Eduardo Bertoni, Representative of the Regional Office for South America of the Inter-American Institute of Human Rights.
Giorgi Kldiashvili, executive director of the Freedom of Information Development Institute (IDFI) in Georgia.
Helen Darbishire, Executive Director of Access Info.
Kristian Ablan, Undersecretary for Administration, Finance and Freedom of Information (FOI) at the Presidential Communications Operations Office (PCOO) in the Philippines.
Lucy Kamunye Ndungu, Kenya's Access to Information Commissioner.
Zahid Abdullah, Federal Information Commissioner at the Information Commission of Pakistan.
It takes approximately six (6) hours to complete the entire course, but participants can do so at their own pace whenever they have some spare time. Once completed and assessed, participants will receive official certification from UNESCO.
"Of all the courses I have enrolled in so far, this course was far above my expectations as it describes and encompasses all possible relevant information about access to information laws and policies. The course arouses the interest of the registrant because it is perfectly divided into all the sections, starting with the introduction, legislation, awareness, challenges and implementation", says Arlinda Osmanaj, National Program Officer in the Media Section, Democratization Department, OSCE Mission in Kosovo.
"Overall, I found the course to be very informative and provided a good and varied overview of the overall functions of the ATI Laws," says Dorthea Glavind, senior analyst with the Royal Canadian Mounted Police's Access to Information and Privacy Directorate.
Don't miss this opportunity and register for the course now for free!