Carleton students disappointed with shift to online classes for winter semester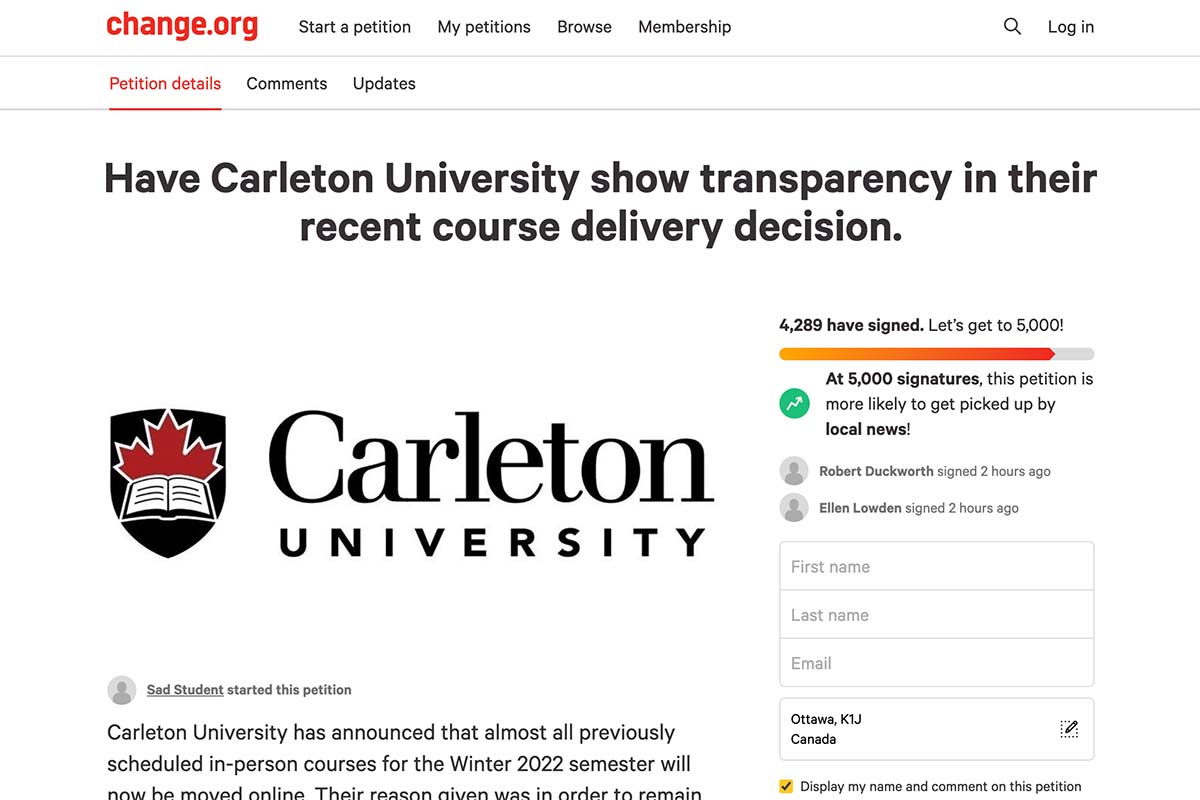 Carleton University announced by email on November 15 that changes have been made to the winter 2022 course schedule.
Classes that were scheduled to be delivered in person next semester have been replaced with an online format.
"The date and time of your classes will have remained the same, but the type of class delivery (in-person or online) may have changed," the emailed announcement reads.
In less than a week, an online petition calling for transparency from the university around the decision to provide the courses garnered more than 4,000 signatures.
The move came as a surprise to many students, like Edidiong Okon, a second-year software engineering student, who left Nigeria for Ottawa last month expecting her winter classes to be held in person. Okon's four courses are now online.
"The fact that I am here is an additional financial responsibility. I pay for residence and now I don't even think I need this room because this situation here, like studying online, is basically the same as back home," Okon said.
Chris Babcock, a second-year global and international studies student living with his family in Malawi, said he plans to move to Ottawa this winter to attend his five scheduled classes in person. He only has one now.
Babcock said he doesn't understand why the changes were made and hopes the university will reverse its decision and bring back its in-person classes.
Francesca Lepore, a second-year global and international studies student, said online learning makes it difficult to build relationships with peers.
"There are so many people I have from my Zoom classes that I haven't had a chance to meet and the online environment really doesn't foster community," Lepore said.
Lepore, from Vancouver, British Columbia, said three of his four classes have been moved online.
"In the future, the university must have better communication. They need to be much more transparent with big issues like this," Lepore said.
Steven Reid, a spokesperson for the university, wrote in an email to the Charlatan that when the students registered for the winter courses in July, the mode of delivery had not yet been finalized. He said that as a result, when the mode was determined, some classes switched from in-person training to online training.
"The change has caused understandable confusion and disappointment, and we are sorry for that," the email read.
The winter term will have about 50% in-person classes compared to 30% that were in-person this term, according to Reid. He advised students to keep reviewing their class schedule for changes.
Anthony Valenti is a second-year global and international student and program advisor for the Carleton Academic Student Government (CASG).
Valenti said he urged elected student representatives from the Board of Governors (BoG), the Rideau River Residence Association (RRRA) and the Carleton University Student Association (CUSA) to speak with the administration. on behalf of students affected by these changes.
"I want to see activism. I want to see advocacy," Valenti said. "It is crucial that our student leaders are in constant contact with their colleagues to properly advocate in a way that is not performative."
Amy Hinchey, president of the Bachelor of Global and International Studies (BGInS) society, said she heard from many "frustrated" and "disappointed" students following Monday's changes.
Hinchey said BGInS was looking to contact the university, but she, like others who spoke to the Charlatannot sure who is behind the changes.
CASG President Jennifer Ramnarine and CUSA Vice President (Student Affairs) Valentina Vera Gonzalez held an Instagram Live Thursday afternoon to update students on the situation after meeting with Carleton University Vice President ( students and registrations) Suzanne Blanchard.
"What Suzanne basically said was that while they don't have to respect social distancing, they don't have to respect those capacity limits, they will because they want to prioritize people. security measures," Ramnarine said.
In a letter sent to the university's president and provost on April 15, the Carleton University Scenario Planning Task Force (CUSP) noted that although the Ontario Ministry of Colleges and Universities announced that in-person classes can resume without physical distancing, youThe group recommended that the university continue to adhere to Ottawa Public Health guidelines for physical distancing.
Reid wrote in the email that future semesters would be closer to normal.
"Notwithstanding any changes due to the ongoing pandemic, we anticipate a return to more conventional classes and primarily in-person classes by Spring/Summer 2022," Reid wrote.
---
Featured Screengrab image.